Product Description
| | | | | | | | | |
| --- | --- | --- | --- | --- | --- | --- | --- | --- |
| Item No. | φD | L | L1 | L2 | L3 | S | M | Tighten the strength(N.m) |
| SG7-10-14- | 15 | 20 | 6 | 6 | 3 | 1 | M3 | 1 |
| SG7-10-25- | 26 | 26 | 8 | 8 | 4 | 1 | M4 | 1.5 |
| SG7-10-30- | 32 | 32 | 10 | 9 | 5 | 1.5 | M4 | 1.7 |
| SG7-10-40- | 40 | 50 | 17 | 12 | 8.5 | 2 | M5 | 4 |
| SG7-10-55- | 56 | 58 | 20 | 14 | 10 | 2 | M5 | 4 |
| SG7-10-65- | 66 | 62 | 21 | 15 | 10.5 | 2.5 | M8 | 15 |
| SG7-10-80- | 82 | 86 | 31 | 18 | 15.5 | 3 | M8 | 15 |
| SG7-10-95- | 98 | 94 | 34 | 20 | 17 | 3 | M8 | 15 |
| SG7-10-108- | 108 | 123 | 46 | 24 | 23 | 3.5 | M8 | 15 |
1111111111111111
| | | | | | | | | | |
| --- | --- | --- | --- | --- | --- | --- | --- | --- | --- |
| Item No. | Rated torque | Maximum Torque | Max Speed | Inertia Moment | N.m rad | RRO | Tilting Tolerance | End-play | Weight:(g) |
| SG7-10-14- | 1.1N.m | 2.2N.m | 19000prm | 3.9×10-4kg.m² | 45N.m/rad | 0.02mm | 1.0c | +0.6mm | 20 |
| SG7-10-25- | 6.0N.m | 12N.m | 16000prm | 6.8×10kg.m² | 56N.m/rad | 0.02mm | 1.0c | +0.6mm | 25 |
| SG7-10-30- | 6.5N.m | 13N.m | 15000prm | 8.3×10kg.m² | 70N.m/rad | 0.02mm | 1.0c | +0.6mm | 46 |
| SG7-10-40- | 32N.m | 64N.m | 13000prm | 9.3×10kg.m² | 490N.m/rad | 0.02mm | 1.0c | +0.8mm | 135 |
| SG7-10-55- | 46N.m | 92N.m | 10500prm | 3.8×10-3kg.m² | 1470N.m/rad | 0.02mm | 1.0c | +0.8mm | 300 |
| SG7-10-65- | 109N.m | 218N.m | 8300prm | 8×10kg.m² | 2700N.m/rad | 0.02mm | 1.0c | +0.8mm | 570 |
| SG7-10-80- | 135N.m | 270N.m | 7000prm | 1.5×10-2kg.m² | 3100N.m/rad | 0.02mm | 1.0c | +1.0mm | 910 |
| SG7-10-95- | 260N.m | 520N.m | 6000prm | 1.9×10kg.m² | 4400N.m/rad | 0.02mm | 1.0c | +1.0mm | 1530 |
| SG7-10-108- | 430N.m | 860N.m | 5000prm | 3×10kg.m² | 5700N.m/rad | 0.02mm | 1.0c | +1.0mm | 2200 |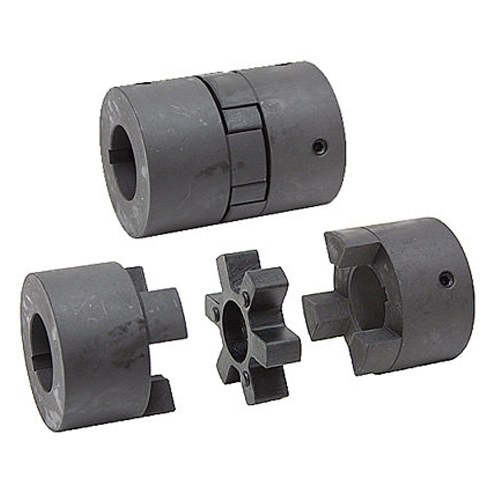 What materials are typically used in manufacturing spider couplings and why?
Spider couplings are constructed using a combination of materials to achieve durability, flexibility, and efficient torque transmission. The choice of materials depends on factors such as application requirements, environmental conditions, and the desired balance between strength and flexibility. Common materials used in manufacturing spider couplings include:
Aluminum: Aluminum is lightweight and corrosion-resistant, making it suitable for applications where weight reduction is important. It offers good mechanical properties and can be used in various industries.
Steel: Steel provides excellent strength and durability. It's often used in heavy-duty applications where high torque transmission is required. Surface treatments can enhance corrosion resistance.
Stainless Steel: Stainless steel offers corrosion resistance in aggressive environments. It's commonly used in industries such as food processing, pharmaceuticals, and chemical processing.
Cast Iron: Cast iron is known for its high compressive strength and wear resistance. It's suitable for applications requiring robust construction and can handle high torque loads.
Plastic/Polymer: Certain polymers and plastics, such as polyurethane or nylon, are used for the elastomeric spider element. These materials provide flexibility, vibration dampening, and misalignment compensation.
The choice of materials depends on the specific requirements of the application. For example, aluminum or stainless steel may be chosen for industries requiring corrosion resistance, while steel or cast iron may be selected for heavy-duty applications. The elastomeric spider is typically made from a durable polymer to ensure flexibility and effective torque transmission while accommodating misalignment. Overall, selecting the right materials ensures that spider couplings can withstand the demands of the intended application and provide reliable performance over their lifespan.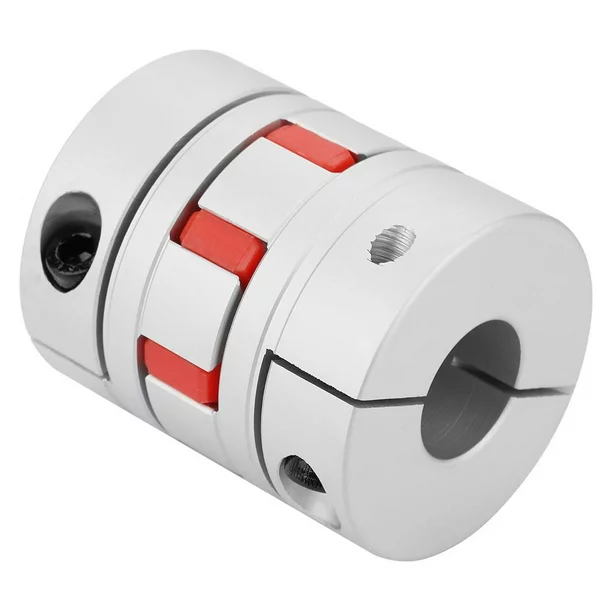 How do you diagnose and troubleshoot issues related to spider couplings in machinery systems?
Diagnosing and troubleshooting issues with spider couplings requires a systematic approach to identify the root cause of the problem and implement effective solutions. Here are the steps to diagnose and troubleshoot spider coupling-related issues:
Visual Inspection: Conduct a thorough visual inspection of the coupling, looking for visible signs of wear, damage, or misalignment. Check for cracks, tears, and irregularities in the elastomeric spider.
Vibration Analysis: Use vibration analysis tools to assess vibration levels during operation. Elevated vibration can indicate issues such as misalignment, wear, or unbalanced loads.
Performance Monitoring: Monitor the performance of connected machinery or equipment. If there's a decrease in torque transmission, efficiency, or overall performance, it could be attributed to coupling problems.
Alignment Check: Ensure proper alignment between shafts connected by the coupling. Misalignment can cause uneven load distribution and lead to coupling wear.
Temperature Monitoring: Monitor the temperature of the coupling during operation. Abnormal temperature increases could point to excessive friction and wear.
Inspect Fasteners: Check for loose or worn-out fasteners such as bolts, nuts, and screws that secure the coupling components. Loose fasteners can contribute to misalignment and coupling issues.
Inspect Lubrication: Check the lubrication of the coupling components. Inadequate or degraded lubrication can lead to increased friction and wear.
Consider Environmental Factors: Evaluate the operating environment for factors such as temperature variations, humidity, and exposure to chemicals. Environmental conditions can affect coupling performance.
Review Maintenance Records: Review the maintenance history and records of the coupling and connected equipment. This can provide insights into past issues and potential causes.
Based on the diagnostic results, appropriate troubleshooting steps can be taken. These might include adjusting alignment, replacing damaged components, re-lubricating, or replacing the elastomeric spider. Regular maintenance and prompt troubleshooting are essential to ensure the reliable and efficient operation of machinery systems utilizing spider couplings.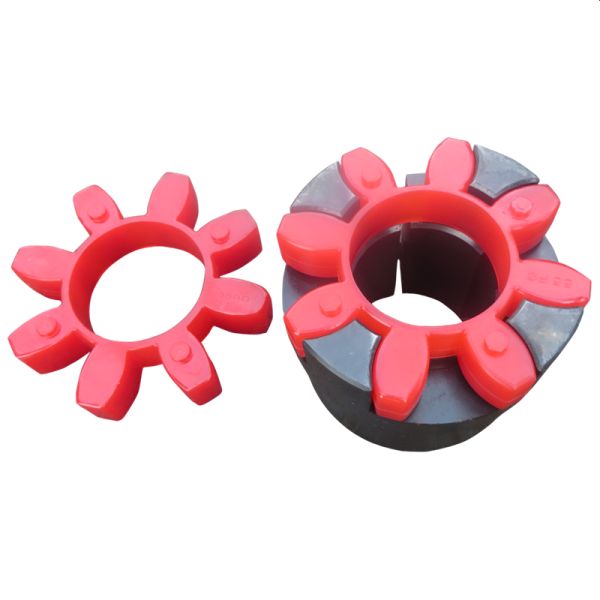 What factors should be considered when selecting a spider coupling for a specific application?
Choosing the right spider coupling for a specific application requires careful consideration of various factors to ensure optimal performance and reliability. Here are the key factors to consider:
Torque Requirements: Determine the torque that the coupling needs to transmit between the shafts. Select a spider coupling that can handle the required torque without exceeding its limitations.
Misalignment Compensation: Assess the type and degree of misalignment that the coupling needs to accommodate. Different spider coupling designs offer varying levels of misalignment compensation.
Operating Conditions: Consider the operating environment, including temperature, humidity, and exposure to chemicals or contaminants. Choose a spider coupling with elastomeric material that can withstand these conditions.
Shaft Diameters: Measure the diameters of the connected shafts. Ensure that the selected spider coupling matches the shaft sizes to achieve a secure and reliable fit.
Space Limitations: Evaluate the available space for installing the coupling. Choose a compact spider coupling design that fits within the available dimensions.
Shaft Speed: Determine the rotational speed of the shafts. Ensure that the selected spider coupling can handle the speed range without causing excessive wear or vibrations.
Vibration Dampening: If vibration reduction is a priority, select a spider coupling with elastomeric material that offers effective vibration dampening properties.
Electrical Isolation: In applications where electrical isolation is necessary, choose a spider coupling with electrically insulating properties to prevent current transmission between shafts.
Chemical Compatibility: If the machinery operates with specific chemicals or fluids, ensure that the elastomeric material of the coupling is compatible with these substances.
Cost Consideration: Evaluate the budget available for the coupling. Consider both the upfront cost and the potential savings from reduced maintenance and downtime.
Manufacturer Reputation: Choose spider couplings from reputable manufacturers known for producing high-quality and reliable products.
Application Type: Different industries and applications have unique requirements. Consider the specific demands of the application, such as pumps, compressors, conveyors, etc.
By carefully evaluating these factors, you can select a spider coupling that best matches the requirements of your application, ensuring efficient power transmission, misalignment compensation, and overall system performance.



editor by CX 2023-09-08