Product Description
Product Description
Flexible couplings are used to transmit torque from 1 shaft to another when the 2 shafts are slightly misaligned. It can accommodate varying degrees of misalignment up to 3°. In addition to allowing for misalignment, it can also be used for vibration damping or noise reduction.
Encoder couplings, flexible coupling, couplings working with Encoder & all kinds of motors (servo motor, DC motor, AC motor, gear motors).
MODEL

OD(mm)

Length(mm)

Bore range(mm)

JM14

14

22

3-7

JM14C

14

22

3-6

JM16

16

22

3-7

JM16C

16

22

3-7

JM20

20

30

4-10

JM20C

20

30

4-10

JM25

25

34

4-12

JM25C

25

34

4-12

JM30

30

35

5-16

JM30C

30

35

5-16

JM40

40

66

8-24

JM40C

40

66

8-24

JM55

55

78

10-28

JM55C

55

78

10-28

JM65

65

90

12-38

JM65C

65

90

12-38

JM80

80

114

16-45

JM80C

80

114

16-45

JM95

95

126

20-55

JM95C

95

126

20-55

JM105

105

140

20-62

JM105C

105

140

20-62

JM120

120

160

20-74

JM120C

120

160

20-74

JM135

135

185

22-80

JM135C

135

185

22-80

"C" means clamp type jaw coupling   Without "C" means setscrew type jaw coupling
application
Packaging & Shipping
Company Profile
Related product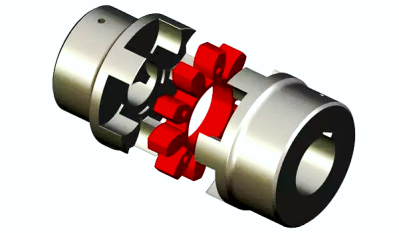 Could you provide examples of industries or applications where spider couplings are commonly used?
Spider couplings find application in a wide range of industries and mechanical systems where torque transmission, misalignment compensation, and vibration dampening are important. Here are some examples of industries and applications where spider couplings are commonly used:
Manufacturing: Spider couplings are used in various manufacturing equipment, including conveyor systems, packaging machinery, and CNC machines. They help transmit torque between motors and shafts while accommodating misalignment.
Agriculture: Agricultural equipment such as tractors, combines, and harvesters often use spider couplings to connect and transmit power between different components.
Automotive: Spider couplings can be found in automotive applications, including drive shaft connections and steering systems, where they help transfer torque and accommodate movement.
Pumps and Compressors: Spider couplings are used in pumps and compressors to connect motors to impellers or rotors, ensuring efficient torque transmission and vibration isolation.
Material Handling: Material handling systems, including conveyors, elevators, and cranes, use spider couplings to connect various components and transfer torque.
Printing and Packaging: Spider couplings are used in printing presses, packaging machines, and labeling systems to ensure precise torque transmission and compensate for misalignment.
Textile Machinery: Textile manufacturing equipment such as spinning machines and looms utilize spider couplings to connect drive components and transmit power efficiently.
Food and Beverage: Spider couplings are used in food processing equipment and beverage production lines, where they provide sanitary and reliable torque transmission.
These examples illustrate the versatility of spider couplings in various industries and applications. Their ability to handle torque transmission, misalignment compensation, and vibration reduction makes them a practical choice for a wide range of mechanical systems.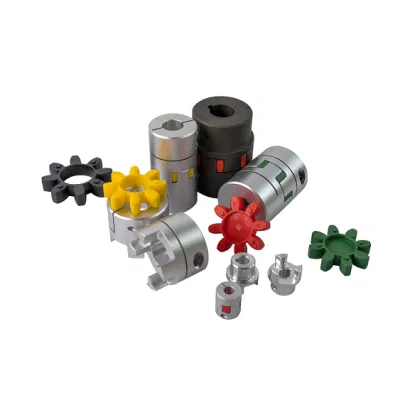 What are the best practices for ensuring proper lubrication of spider couplings?
Proper lubrication is essential for maintaining the performance and lifespan of spider couplings. Here are some best practices to ensure proper lubrication:
Use the Right Lubricant: Select a lubricant that is recommended by the coupling manufacturer. The lubricant should be compatible with the elastomeric spider material and the operating conditions of the machinery.
Follow Manufacturer's Guidelines: Adhere to the lubrication schedule and guidelines provided by the manufacturer. They will specify the appropriate lubrication intervals and the quantity of lubricant to be applied.
Clean the Components: Before applying lubricant, make sure the coupling components are clean and free of dirt, debris, and old lubricant residues. Cleaning the components prevents contamination of the new lubricant.
Apply Lubricant Evenly: Apply the lubricant evenly on all contact surfaces of the elastomeric spider and the coupling hub. Avoid over-lubrication, which can lead to excess buildup and potential slippage.
Use Lubrication Tools: Some couplings may have lubrication ports or fittings that facilitate the application of lubricant. If such features are present, use the appropriate lubrication tools to ensure thorough coverage.
Operate Coupling After Lubrication: After applying lubricant, operate the coupling for a short period to ensure that the lubricant is evenly distributed across the contact surfaces. This helps in preventing dry spots and optimizing lubrication effectiveness.
Monitor Lubricant Condition: Regularly inspect the condition of the lubricant during routine maintenance checks. If you notice signs of contamination, degradation, or insufficient lubrication, take corrective actions promptly.
Consider Operating Conditions: Environmental factors such as temperature, humidity, and exposure to chemicals can affect the performance of lubricants. Choose a lubricant that can withstand the specific operating conditions of the machinery.
Document Lubrication Activities: Keep a record of lubrication activities, including the type of lubricant used, lubrication intervals, and the results of lubrication checks. This documentation helps track the history of lubrication and informs future maintenance decisions.
By following these best practices for lubrication, you can ensure that the elastomeric spider remains properly lubricated, reducing friction, wear, and the potential for premature coupling failure.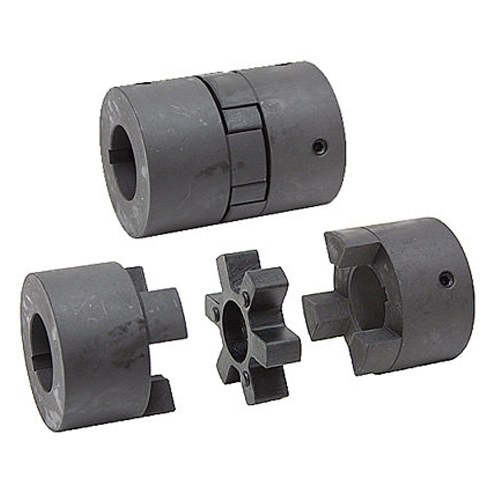 What is a spider coupling and how is it used in mechanical systems?
A spider coupling, also known as a jaw coupling or elastomeric coupling, is a type of flexible coupling used to connect two shafts while accommodating misalignment and transmitting torque between them. It consists of three main components: two hubs and an elastomeric spider or insert that fits between them.
The elastomeric spider is typically made of a flexible and durable material, such as rubber or polyurethane, with a series of lobes or fins that fit into matching grooves on the inner surfaces of the hubs. These lobes allow the spider to flex and absorb misalignments between the connected shafts while transmitting torque.
The spider coupling is used in mechanical systems to:
Transmit Torque: The primary function of a spider coupling is to transmit torque from one shaft to another. As the shafts rotate, the elastomeric spider deforms slightly, allowing the hubs to move relative to each other while maintaining torque transmission.
Accommodate Misalignment: Spider couplings can accommodate different types of misalignment, including angular, axial, and parallel misalignments, without causing excessive stress on the connected components. This flexibility helps prevent premature wear and failure.
Dampen Vibrations: The elastomeric material of the spider acts as a shock absorber, dampening vibrations and reducing the transmission of vibrations between the connected shafts. This can improve overall system performance and reduce wear on components.
Isolate Shock Loads: In applications with sudden changes in torque or shock loads, the spider coupling can absorb and dampen these shocks, protecting the connected components from damage.
Reduce Maintenance: Spider couplings require minimal maintenance due to their simple design and absence of lubrication points. This can lead to reduced downtime and maintenance costs in industrial machinery.
Provide Electric Insulation: Spider couplings can provide electrical isolation between the connected shafts, making them suitable for applications where electrical grounding needs to be minimized.
Spider couplings are commonly used in various machinery and equipment, such as pumps, compressors, conveyors, fans, and industrial machinery. They are particularly well-suited for applications that require flexibility, misalignment compensation, vibration reduction, and ease of maintenance.



editor by CX 2023-09-05